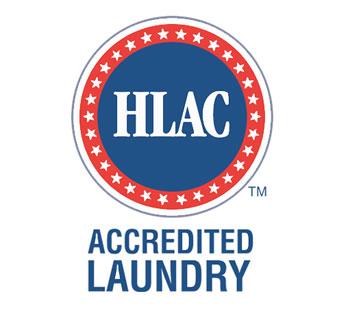 Los Angeles, CA – July 8th, 2015
For Immediate Release:
Medico Professional Linen Service Continues to Bolster Its Commitment to Safety and Quality with an Additional HLAC Accredited Hospital Plant.
Medico Professional Linen Service's commitment to delivering top-quality products and services to protect the well-being of both patients and staff through streamlined laundering processes is evident with its most recent HLAC accreditation.
The Healthcare Laundry Accreditation Council (HLAC) is a third-party, independent non-profit inspection organization for healthcare laundry facilities. It has awarded Medico Professional Linen Service with another HLAC Accreditation at their hospital processing plant located at 1705 South Hooper Ave. Los Angeles, CA 90021. With this level of cleanliness and operational excellence, customers can rest assured that Medico is exceeding industry standards established for processing healthcare linen and uniforms.
A laundry who has received an HLAC accreditation:
– Properly trains all staff handling their products with the upmost care.
– Follows recommended industry practices in its policies and procedures.
– Provides reliable delivery of products in the quality and quantity expected by the customer.
– Has a commitment to excellence to meet the highest industry standards.
– Is following OSHA'S Blood borne Pathogens Standards.
The inspection process for HLAC accreditation is very thorough and composed of rigorous multiple phases. It is un-realistic for healthcare providers to complete such an inspection when choosing a healthcare linen and uniform service provider. HLAC provides an independent review to ensure safety standards are being met at every level of the process, from pick up to drop off. Customers, employees and compliance officers can focus on their business of healthcare, knowing that the medical laundry is being handled by true professionals. Medico Professional Linen Service continues to act on its commitment made to its customers: delivering quality and convenience while implementing safe practices.
For additional information on this release, Medico Professional Linen Service and HLAC Accreditation please contact Maynor Hernandez, New Business Development Director at (800) 464-6334.
View The Medico Whitepaper – Which Infection Control Approach Is Best?