Helping to save the earth, one wash cycle at a time.
It's not just important to work with a medical linen service that effectively cleans your linens and uniforms. It's also important to work with a medical linen service that effectively cleans your linens and uniforms with the environment in mind. At Medico, we're taking steps to ensure that we are on the leading edge of green technology while maintaining the quality of our services. We want to keep both your patients and the environment as healthy as possible. 
Your uniforms and linens will look and feel fresh because our innovative green approach to cleaning and finishing is specific to each type of clothing or fabric.
What we're doing.
We have achieved a new Clean Green efficiency standard in medical uniform and linen laundry services by setting new benchmarks through recent technology improvements. Here's just a glimpse of what we've been able to accomplish:
40% reduction in pollutants discharged

60% reduction in water usage

35% of water used is recycled

30% reduction in energy usage

Begin using NPE environmentally-friendly wash chemicals that are anti-pollutant
Our Clean Green system reduces pollutants being discharged, conserves millions of gallons of water on an annual basis, and reduces energy usage. And we don't intend on stopping there! We are always on the lookout for more efficient ways to process your medical linen and uniforms.
Affiliations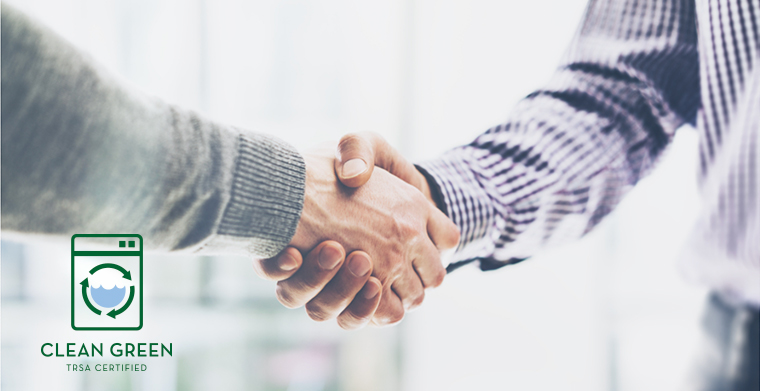 To demonstrate our commitment to environmental sustainability, we have submitted to a voluntary certification process by the TRSA, one of the leading organizations in commercial laundry certification. Based on our efficiency standards, we were awarded the Clean Green certification, which is given to commercial laundries that meet water and energy conservation standards and deploy best management practices (BMPs).
Work With Us to Achieve a Greener Future
Being an environmentally-conscious business is about more than just choosing not to print an email. You can move your business forward and lessen your environmental impact by partnering with businesses that are also dedicated to a cleaner future. So, work with Medico!
To learn more about our services and about how we're achieving Clean Green laundry, contact us today.