How Medical Linen and
Uniform Service Works
How Medical Linen and Uniform Service Works
Our medical linen and uniform service starts with a free consultation.
Whether you are a large hospital or a small clinic, our expert sales reps start by identifying the garments, linens, cleaning materials, and disposables best suited for your medical linen needs. Nowadays, medical professionals recognize that renting uniforms and linens is economical, efficient, and protects the environment.
There are no shortcuts when it comes to medical linen safety and hygiene. For professional linen and uniform services designed for the medical industry, you need results-based solutions, calculated handling up-to-par with industry standards, quality cleanliness and safety backed by reputable institutions, and medical garment care expertise that rises to any need. You need Medico's comprehensive medical linen and garment services!
How Medico's Medical Linen and Uniform Service Works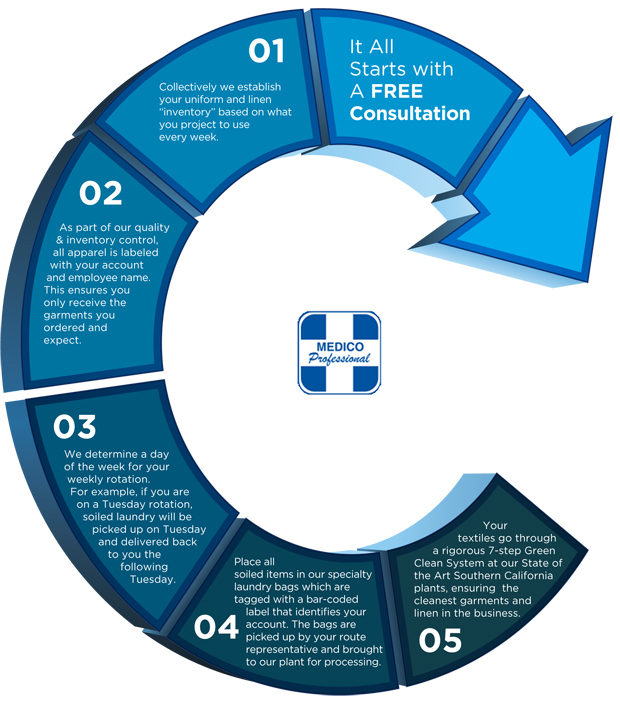 Excellent Linen and Garment Care for the Medical Industry
Medico has some of America's biggest and most impressive laundry and garment care facilities dedicated to medical linens and uniforms. These facilities can accommodate and deliver some of the most diverse and most comprehensive specialized medical linen supply and laundry services for medical facilities of all types and sizes. Medico provides the rental and laundry of the following items:
Lab Coats
Scrubs
Patient Gowns
Uniforms
Linens
Towels
Floor Mats
Microfiber
Our Certifications
We don't make bold claims. Everything we say we do – from the quality of our services to the eco-friendliness of our operations to the quality of cleanliness that we provide – is backed up by organizations that hold us to the highest standards in the industry:
HLAC
Our HLAC badge is your guarantee that the integrity of our entire process has been inspected, verified, and passed the criteria on safety, hygiene, and effectiveness in handling reusable medical textiles set forth by the Healthcare Laundry Accreditation Council.
Laundry ESP
Medico believes that quality laundry can be sustainable, which is why we are a part of the Laundry Environmental Stewardship Program (Laundry ESP®), a voluntary program that facilities undertake to reduce their carbon footprint without jeopardizing quality and hygiene.
Hygienically Clean
The Hygienically Clean Certification guarantees you that the textiles processed in our facility do not contain harmful amounts of disease-carrying pathogens.
Clean Green
The Clean Green Certification from the TRSA guarantees that our operations use the best management practices regarding environmental sustainability.
Solutions, Results, and Peace of Mind
It always starts with a free consultation.
Medico recognizes the uniqueness of each medical facility and of knowing, fully and in-depth, each of our clients, understanding their needs, and creating solutions based on these needs. 
That is why we put a lot of effort into the consultation that we conduct prior to starting each service. This, we believe, is the best way we can meet your needs, expectations, and standards.
Medico uses a careful combination of expertly engineered laundry processes, curated product selection, and highly-advanced garment care equipment, all powered by experts in medical textile care. Your linens and uniforms arrive at your doorstep in one seamless, efficient, convenient manner.
Medico Is the Best Way to Do Linens 
Medico is the medical linen service expert that you need to get the medical linens and uniforms that your facility deserves. Get started on your own rental and laundry programs today – call us at 800.464.6334.