Wellness Spa Linen Rental Service
You want your spa to be warm, comfortable, and inviting so that clients can unwind, decompress, and come back again and again. A large part of the spa experience involves sheets, towels, robes, and more. You want to invest in linen services that are high in quality and sure to impress your guests every time.
Count on Medico Professional Linen Service to get the job done. Our services are efficient, high-quality, and cost-effective. We're here to save you time and money so that you can focus on what matters most – your clients.
High-Quality Linens
Here at Medico Professional Linen Service, we're dedicated to making your job easier by providing top-notch spa linen services. We'll help you pamper your clients with comfortable and clean sheets, towels, and robes.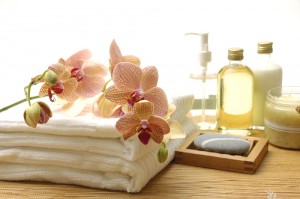 Premium sheets
Premium pillow cases
Deluxe bath towels
Deluxe massage towels
Robes
Wraps
We provide a variety of different spa linens, so you are sure to find ones that suit the needs of your facility. Our linen services include deluxe pillowcases, bath towels, massage towels, robes, and wraps. These linens come in a wide range of colors and sizes to make our services customizable to your specific business. Made with durable, yet comfortable material, our linens will leave a great lasting impression on your clients.
Top-Notch Safety Standards
Our linen services follow all OSHA guidelines in conjunction with HLAC requirements. From collection of soiled linens to washing, extracting, drying, packaging, storing, and delivery, we abide by the safest hygienic processes. You will have peace of mind with Medico Professional Linen Service.
Let Medico Supply Your Spa Linens Today!
Family-owned and -operated since 1932, Medico Professional Linen Service has the experience and expertise necessary to provide quality linens to your spa today! We have helpful representatives ready to answer your questions and get you a free, personalized quote. Contact us today at 800-464-6334.
Proudly serving medical linen and uniform needs in the Los Angeles greater area since 1932.