Dental Lab Coat Services and Scrub Rental Programs
Now more than ever, it is critical that your uniforms are clean and free of dangerous pathogens. Dental offices need to be certain their staff uniforms are being laundered to the highest standards. If you want to remove all doubt, trust the healthcare laundry who has been in the industry for over 85 years. Trust Medico!
We are the premier partner for your dental lab coat services and scrub rentals. We also provide a wide variety of towels that your facility needs. Our services are reliable 52 weeks a year and the products we deliver are certified Hygienically Clean.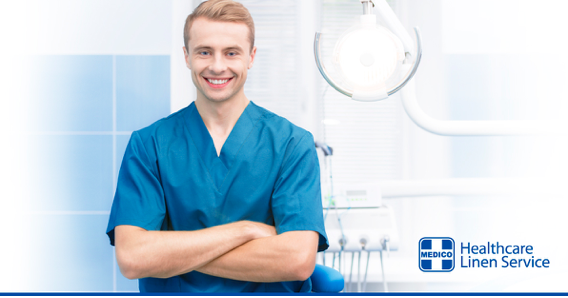 Medico customers can always rely on high quality lab coats and scrubs, professionally laundered at our Hygienically Clean Certified and HLAC Accredited facilities.
High-Quality Lab Coats and Scrubs
Having the right lab coats and scrubs are essential to your dental office running both efficiently and safely. When you rent your dental uniforms through Medico, you can count on clean, safe, and efficient deliveries. Our scrubs are made of high-quality materials and are comfortable, professional, and durable.
We have a variety of rental scrub programs available so that you can pick out what will work best for your office's needs. Our friendly and knowledgeable customer service staff is only a phone call away.
Certified Cleanliness
Medico is Hygienically Clean certified and HLAC accredited. This means that our dental scrubs don't put your medical facility at risk for dangerous cross-contamination. Our facilities go through third-party testing to verify our clean practices, so you can feel confident getting your dental scrubs from us.
Additionally, we work diligently to make our operations as environmentally friendly as possible. We exclusively use EPA-registered products to maintain disinfection in the washing process, so you know that your scrub service isn't hurting the environment.
Contact Medico Today!
When it comes to safety, do not settle for less than the best. For dental uniforms you can feel confident about which also look great, partner with the healthcare linen and uniform experts at Medico. Contact us for more information at (800) 464-6334 and ask us about a free consultation.