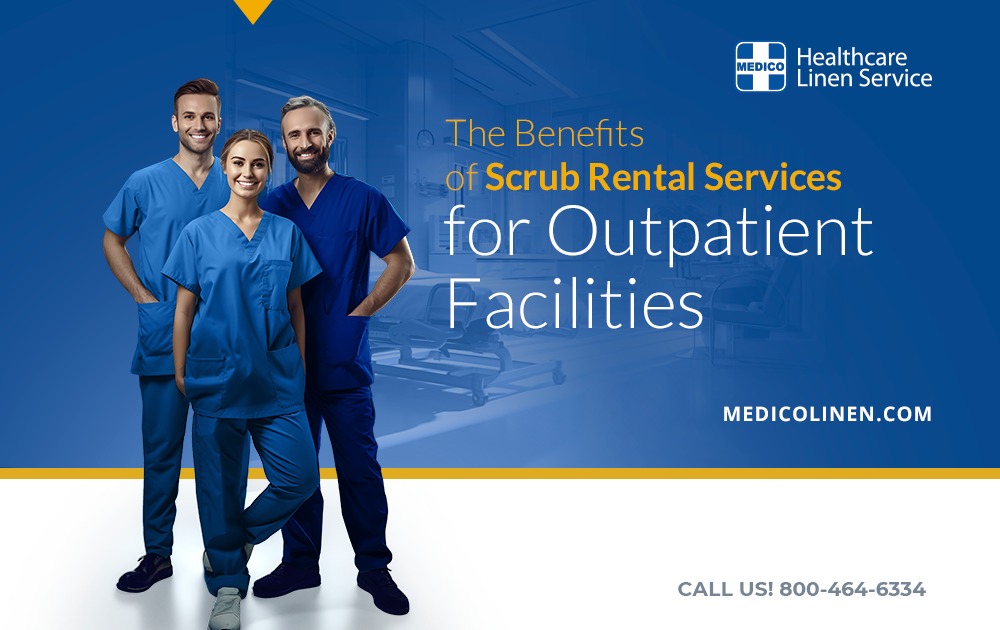 In today's fast-paced healthcare environment, outpatient facilities need every advantage they can get. A reliable scrub rental service is a key element that can significantly enhance efficiency and elevate the professional image of a clinic. At Medico Healthcare, we champion the benefits of scrub rental services for outpatient facilities. We understand their unique needs and ensure seamless operations to empower your staff with the tools they need to deliver exceptional care and improve the patient experience.
Cost Efficiency
One of the immediate benefits of scrub rental services for outpatient facilities is cost savings. Purchasing, maintaining, and replacing scrubs can be an expensive and time-consuming process. 
Medico Healthcare's rental service takes the burden of upfront investments and ongoing maintenance off your shoulders. With our service, outpatient facilities forecast their monthly expenditures more accurately, reducing unexpected costs related to wear and tear or size changes.
Professional Image
First impressions matter. Uniform, clean, and well-maintained scrubs enhance the image of your staff and instill confidence in your patients. By utilizing Medico Healthcare's scrub rental services, your outpatient facility ensures that your team always presents a polished, unified, and professional front.
Hygiene and Sanitation
Patient safety and infection control are paramount in healthcare settings. Medico Healthcare takes this seriously. Our scrubs undergo rigorous sanitation processes that adhere to the highest healthcare standards. The benefits of scrub rental services for outpatient facilities extend beyond convenience. It ensures each garment meets the strictest hygiene requirements.
Time Savings and Convenience
Managing a scrub inventory, dealing with repairs, and ensuring that every staff member has a clean set available can consume a significant amount of time and effort. Medico Healthcare's scrub rental service simplifies this process. We manage inventory, handle repairs, and ensure timely deliveries, allowing your administrative team to focus on core patient care activities.
Flexibility and Customization
Every outpatient facility is unique, and so are their needs. Medico Healthcare recognizes this. No matter your branding requirements, our service is tailored to meet the particular needs of each clinic. As your team grows and changes, we effortlessly adapt to continue offering personalized service.
Reduced Administrative Burden
With Medico Healthcare handling your scrub needs, there's no need for your administrative staff to keep track of orders, repairs, or replacements. We manage all these aspects, reducing the administrative workload and associated costs.
Medico Brings Premier Scrub Rentals for Outpatient Facilities
Where every detail matters, Medico Healthcare's scrub rental services are an indispensable tool for outpatient facilities. The benefits of scrub rental services for outpatient facilities are critical to ensuring you stay at the forefront of an evolving medical landscape. 
From cost savings and improved professional image to strict hygiene standards and sustainability, our service touches every facet of outpatient operations. Trust Medico Healthcare to elevate your outpatient facility's game, one scrub at a time. Call us today at (800) 464-6334, or email us to learn more about the benefits of scrub rental services for outpatient facilities.