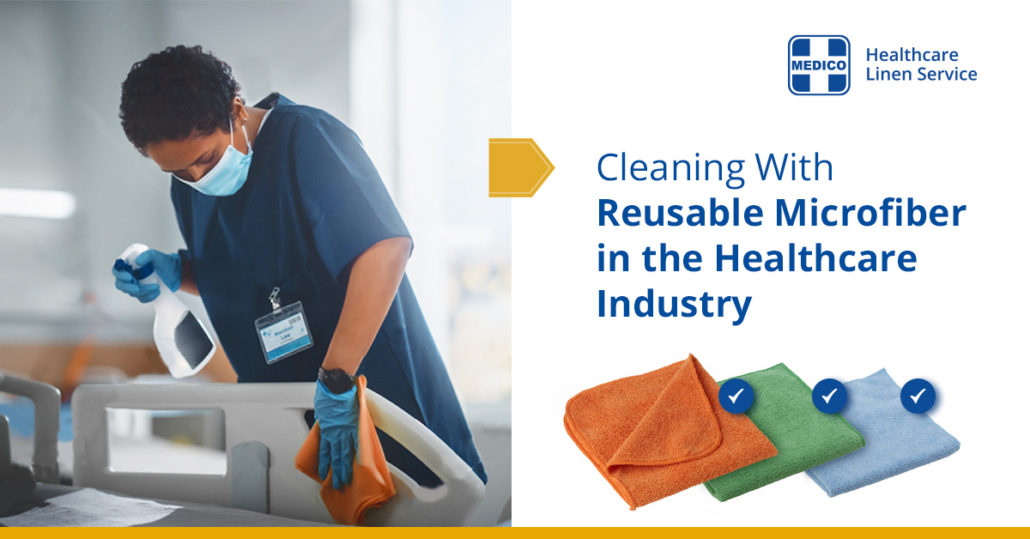 Healthcare facilities and the people in them deserve the cleanest, most well-maintained environments possible. Provide your maintenance staff with microfiber products that get professional results! Cleaning with reusable microfiber in healthcare environments is an effective way to maintain health and safety. Here's why:
The Benefits of Cleaning with Reusable Microfiber in Healthcare
There are many different tools that help sanitize medical facilities, but reusable microfiber stands out. Reusable microfiber cloths provide:
High Absorbency
Microfiber cloth absorbs liquids far more efficiently than any other cloth material, making them highly effective cleaning tools. Additionally, when a user wants to dry with it, all they have to do is wring the cloth out and it becomes an excellent drying cloth. That's versatility and ease in an effective package! 
Electrostatic Cleaning
Microfiber cloths do more than remove liquids from various surfaces. They also generate static charges to attract dust and other particles and more easily remove them as well. This charge can be maintained for long periods of time, ensuring small collections of dirt or dust don't render them immediately useless.
Long, Useful Lifespans
With both liquids and small particulate matter, microfiber cloths are highly effective for long periods of time. They are durable, able to withstand high-intensity uses while remaining soft and dry for continued usage. This is largely thanks to their water filtering and static retention capabilities, but is helped tremendously by proper care and maintenance.
Get the Best Reusable Microfiber Cloths in Southern California from Medico!
Medico provides reliable microfiber cloths for facilities looking for effective cleaning materials. We have lasted nearly a century in the industry because of our high-quality products and reliable service that regularly attains Hygienically Clean accreditation! With us, you get microfiber cloths that are:
Effective

. Medico only provides the most reliable, most effective microfiber cloths to our clients. With our products, your cleaning staff can tackle any spill or dust buildup, no matter how involved!

Durable

. We provide microfiber cloths that withstand the tests of both time and use. No matter how extensively your staff uses them or in what conditions, we will ensure that they retain their useful lifespans.

Always There When You Need Them

. On top of laundering and repairing materials when necessary, Medico will take care of your inventory needs. Through us, microfiber cloths are easy to stock, and will help

avoid any coming supply chain disruptions

. With Medico, you have what you need when you need it, allowing you to focus on what matters most: your patients.
Contact Medico for More Information
Medico has the tools you need for cleaning with reusable microfiber in healthcare. Start today by calling us at 1-800-464-6334! You may also reach out to us here for a free quote on our other products and services.